Zwilling J.A. Henckels - Prime Cookware 4pcs (Induction) 5 layers 64060-003
Discount amount: 14.287.900 VNĐ
Price: 15.624.000 VNĐ
(-9%)
In stock/Available:
Available
This item does not show inventory, thanks to you record phone number and email, we will contact again in 24h
The ZWILLING® Prime cookware set consists of four saucepans, complementing your kitchen interior with its elegant design. The matt finish looks sophisticated but it is also durable, scratch-resistant and easy to clean. The two stock pots (16 cm and 20 cm in diameter), the stew pot (20 cm) and saucepan (16 cm without lid) provide a solid basic range for your everyday cooking needs.
Share
Wholesales price for this item?
Contact
You might be braising meat in the stew pot, preparing a sauce in the saucepan, while cooking pasta and vegetables in the two stock pots: prepare all the individual components of your meal at once! The lids retain the heat better in the pot, speeding up the cooking process and ensuring that you use less energy. The SIGMABOND base with its rectangular capsule, which distributes heat right the side walls of the pots, is also crucial in this.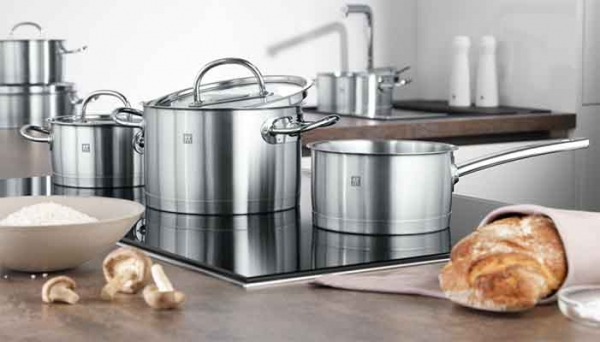 The stainless steel base with aluminium core efficiently absorbs the heat from the hob and conducts it evenly. These pots and pans can be used equally well on induction hobs. The pouring rim is a real help when straining and serving; it makes pouring and serving easy. ZWILLING® Prime cookware is versatile with so many different uses, ensuring that your cooking is a success time and time again.
High-quality 18/10 stainless steel finish, hygienic and neutral in taste
SIGMABOND sandwich base
Very good heat retention and distribution
Integrated measuring scale
Suitable for use on induction hobs
Components In Delivery: 1 Stew pot, 2,8 l, 1 Stock pot, 2,2 l, 1 Stock pot, 3,8 l, 1 Sauce pan without lid, 1,6 l
Most viewed products See more