Wecast - HDMI DISPLAY WIRELESS WECAST DONGLE
Discount amount: 599.000 VNĐ
Price: 700.000 VNĐ
(-14%)
In stock/Available:
availble
This item does not show inventory, thanks to you record phone number and email, we will contact again in 24h
- Date this date, as more as more to add many the current device to the life to the server like the multi player and multisation of the disident, that that can not give any connection in the device same as system. Time here, the problem that the problem that be be able to be resolve by HDMI transitions device not supported by WECAST, the product will be shared your screen of your device devices as smartphone, the computer table, laptop, ... up the terminal device as tivi, computer, ... through the connection port HDMI without a connection type.
- Please provide the image transworking HDMI device not supported WECAST for the seconds sec, giải trí thật thú vị. Product is a selection for the minh that you will give your friends that are an absolute superbness.
Share
Wholesales price for this item?
Contact
Superior configuration
Equipped with the RK2928, 1.2GHz processor, Cortex A9, WECAST Wireless HDMI Video Imager offering high-speed processing capabilities, making it the most powerful and smarter performance device. With 128Mb of high-speed 128Mb of RAM and 128Mb of NAND Flash memory, it supports multitasking at the same time as software, all of which provide high-performance and high-performance processing platforms.
In addition, the advanced graphics processing chip delivers optimized graphics performance for you to experience high-definition content with true-to-life sound and great graphics. You enjoy the most popular 3D performances today.
Intelligent design, high compatibility
- HDMI Wireless Audio Equipment WECAST Wireless is a compact, lightweight, high-quality, glossy black case that lets you easily navigate your product. Just connect the product to your projector or home theater via the HDMI port so that you can share the entire screen of smart devices such as smartphones, tablets, laptops, ... onto the No need to use any type of connection cable, giving you unprecedented convenience.
WECAST Wireless WIRES also includes built-in IEEE 802.11 b / g / n Wifi for easy sharing of content from DLNA, Airplay, Miracast, and significantly improves reception. WIFI. In addition, you can plug in a removable antenna over the USB port for better reception, better signal reception, and better compatibility with most current Wifi modem standards.
TECHNICAL SPECIFICATIONS
-CPU: RK2928, 1.2GHz, Cortex A9
-HD video decoder (1080p @ 60fps)
-RAM: 256MB DDR3
- Supported protocols: DLNA, Airplay, Miracast
- IEEE 802.11 b / g / n Wifi
- Power: 400mA 5V (can be powered from the USB port of the TV, should use 5V / 1A external charging cup to ensure optimum performance and stability of the device)
- Media Support:
+ Audio: Mp3, WMA, WAV, OGG, AAC, FLAC, 3GP ...
+ Video: MP4, MKV, AVI, RM, RMVB, MOV, TS, MPEG ...
+ Photo: JPEG, JPG, BMP, PNG, GIF, TIFF ...
Supported operating systems: Windows Vista, Windows 98SE, Mac OS, Windows ME, Linux, Windows 2000, Android, Windows XP, IOS, Windows 7, Windows 98, Windows 8.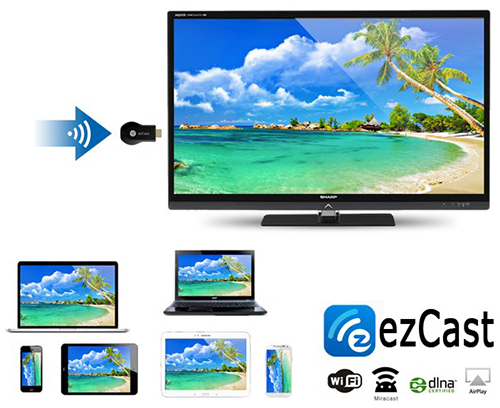 Most viewed products See more