Supor - Stainless Steel Pot - S08A20
Discount amount: 177.000 VNĐ
Price: 230.000 VNĐ
(-23%)
In stock/Available:
Available
This item does not show inventory, thanks to you record phone number and email, we will contact again in 24h
- Capacity: 2.7L, size: 20cm;
- Material: aluminum alloy heat transfer, heat conduction;
- Pot using non-stick adhesives in accordance with the standards of the French SEB Group;
- Bottom 3 layers can be used on the kitchen: electric stove, infrared cooker, gas stove ...
- The exterior of the pot is powder coating, easy to clean;
- Scratch-resistant glass, easy to observe the food during cooking;
- Handles made of plastic against fire, fire, safety for users;
- Stylish design, creative color.
Share
Wholesales price for this item?
Contact
Supor Fruits 20cm 2.7L S08A20 is an indispensable kitchenware in the cooking process that shows the talent and interest of the housewife. With a 20cm pot you can use to fry a few dishes, cook soup, or vermicelli are very simple. The product has non-stick coating meets the safety standards of SEB Group, making housework easier than ever.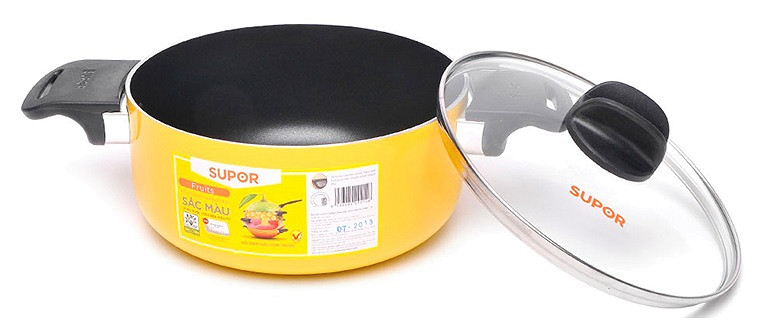 Salient features
Material: International aluminum alloy 3003 heat transfer, heat conduction.
The inside uses a safety sealant according to the standards of the French SEB Group.
Sand spraying technique to increase the adhesion of the anti-stick coating on the surface of the pan, not easy to peel.
Outside the electrostatic coating, easy to clean.
Stylish design, creative colors.
Specifications
Pot size: 20 cm
Yellow
Feature description
2.7 liter capacity
The pot is designed with capacity up to 2.7 liters so you can cook water foods such as hot pot, soup, soup with large volume easily.
Made from high quality material
The product is made from international aluminum alloy 3003 for high durability, anti-wear to bring high service life. Therefore, the housewife can peace of mind using the pot without worrying about the damage caused by fire or heat, food ...
Adhesive safety
Inside of the safe use of anti-stick standards of the French SEB Group, although not greasy, but directly cooking food does not react. You will rest assured food processing without sticking to the internal surface, easy cleaning, save time, limit the amount of oil and grease when processing food.
Exterior made of powder coating
Outside the pan is coated static electricity support pan avoids the maximum impact of the environment of the external force to bring you product firm, durable during use.
Besides, the powder coating also creates a high aesthetic for the product, attracting the love of many users.
A versatile pot
Now you can boil water, cook soup, steam or make food using this product. With a compact, easy-to-navigate, high quality design, this product is the perfect choice for those who love to cook.
Bright colors
The product is not only a versatile cookware but also an item that enhances the beauty of your kitchen. With beautiful design, vibrant colors, this will be a suitable gift for those who love the beautiful space.
Most viewed products See more