STAUB - Cocotte Mini Mustard - 10 cm round 1101012
Discount amount: 2.407.900 VNĐ
Price: 2.895.600 VNĐ
(-17%)
In stock/Available:
Available
This item does not show inventory, thanks to you record phone number and email, we will contact again in 24h
- Cast iron for heat retention and good heat distribution
- Ideal for preparing stews, soups ...
- Suitable for all types of cookers, including electric cookers
Share
Wholesales price for this item?
Contact
With a volume of 0.25 L, a diameter of 10 cm and a height of 7 cm including lid, the round Staub Mini Cocotte is perfect for cooking small quantities of food. Cocottes are particularly good for stewing meat or vegetables as they were originally developed in France for this very purpose. They are made from cast iron, retain heat for a long period of time and distribute it evenly throughout the dish.

Cocottes from Staub are suitable for beginners, amateur cooks, as well as professionals, and are held in high regard by master chefs such as Paul Bocuse. They can also be used on ceramic glass cooking hobs, gas hobs, induction hobs and ovens. In addition, this versatile piece of cookware will bring a touch of French flair to your kitchen and your dining room.

All cocottes in the La Cocotte range have a matte black enamel interior, which is primarily used to enhance the stewing effect of the cast iron, and which also forms an attractive contrast to the mustard yellow model. Slow cooking with a Staub Mini Cocotte not only preserves the vitamins and other vital ingredients in food, but also keeps it succulent and moist so you can create flavoursome dishes such as mini potato gratins or mini desserts like melt-in-the-middle chocolate puddings.
Ideal for preparing single portions in the oven
For sweet and savoury dishes, e.g. gratins, chocolate fudge, crème brûlée
Preparing and serving in style
Suitable for all types of hobs, incl. induction, can also be used in the oven/grill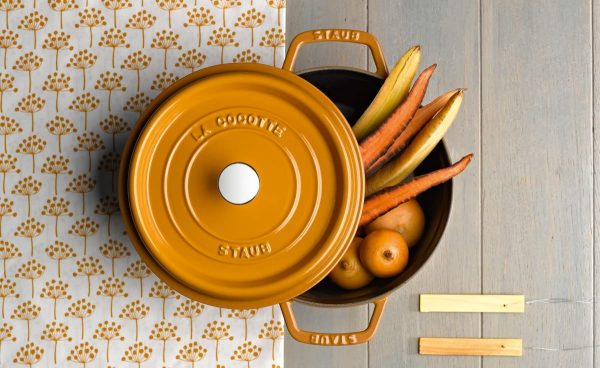 Height without lid:
4.8 cm
Induction Compatibility:
yes
Most viewed products See more