Zwilling J.A. Henckels - Cocotte Mini Grenadine - 10 cm round - 1101087
Discount amount: 2.407.900 VNĐ
Price: 2.895.600 VNĐ
(-17%)
In stock/Available:
Available
This item does not show inventory, thanks to you record phone number and email, we will contact again in 24h
Ideal for preparing single portions in the oven
For sweet and savoury dishes, e.g. gratins, chocolate fudge, crème brûlée
Preparing and serving in style
Suitable for all types of hobs, incl. induction, can also be used in the oven/grill
Intense colour through "Majolica" enamelling
Share
Wholesales price for this item?
Contact
Nowadays, less is undoubtedly more in upmarket kitchens. Bring the wonderful feeling of eating out to your meal table with this mini cocotte in a lush pomegranate colour. With its outstanding material properties and shape, the cocotte represents a fully functioning casserole dish in miniature: whether you are cooking a soufflé, gratin or a fine dessert – cook and serve your food in style in this mini cocotte from the La Cocotte series. The cast iron mini cocotte can be used on all types of cooker, including induction hobs, and it can equally well be used in the oven.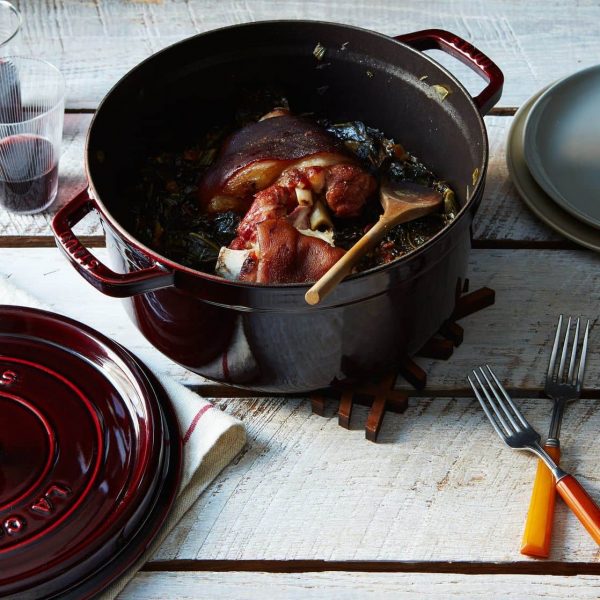 The small roasting pan has a diameter of 10 cm and a height of 7 cm including its lid: it holds 0.25 litres and is therefore perfect for individual servings. Impress your guests by serving them in their own individual mini cocotte, ensuring that each one receives fresh, hot food in an attractive dish. The pomegranate-coloured cocotte has a matt black enamelled coating, with its cast iron body helping to distribute the heat slowly and evenly. As the cast iron mini cocotte also stores the cold, you can also use it to prepare and serve cold desserts. Whet your guests appetites with these Staub cocottes – they will scarcely be able to conceal their excitement to remove the lid from the mini cocotte and taste its contents.
Ideal for preparing single portions in the oven
For sweet and savoury dishes, e.g. gratins, chocolate fudge, crème brûlée
Preparing and serving in style
Suitable for all types of hobs, incl. induction, can also be used in the oven/grill
Intense colour through "Majolica" enamelling
Height without lid:
4.8 cm
Induction Compatibility:
yes
Most viewed products See more