STAUB - Cocotte Graphite grey - 11cm oval 1101118
Discount amount: 2.187.900 VNĐ
Price: 2.879.500 VNĐ
(-24%)
In stock/Available:
Available
This item does not show inventory, thanks to you record phone number and email, we will contact again in 24h
Base Size: 4.5" / 11 cm Oval
Capacity: 0.25 Qt. / 0.23 L
Each product is one-of-a-kind and is produced using a traditional manufacturing process
A flat lid with self-basting spikes underneath creates a continuous natural basting cycle for moist and nutritious meals
Enamelling process includes 2-3 coats, inside and out
Share
Wholesales price for this item?
Contact
An indispensable component in every traditional French kitchen with an interior black matte enamel finish that is excellent for braising and self-basting spikes on the flat lid to lock in moisture.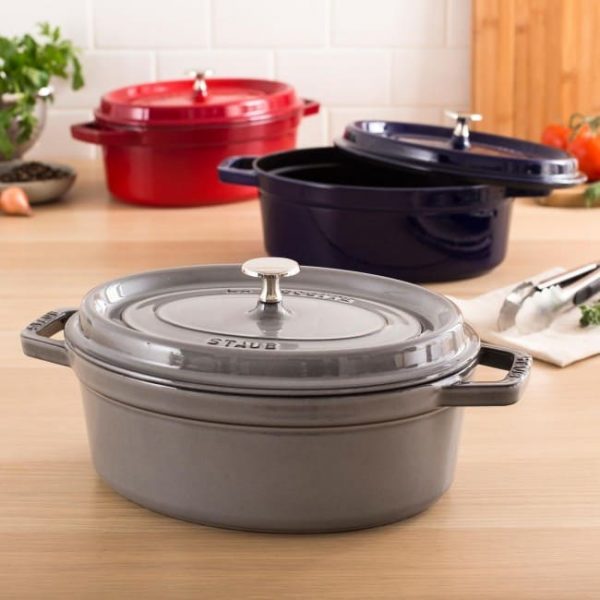 Base Size: 4.5" / 11 cm Oval
Capacity: 0.25 Qt. / 0.23 L
Each product is one-of-a-kind and is produced using a traditional manufacturing process
A flat lid with self-basting spikes underneath creates a continuous natural basting cycle for moist and nutritious meals
Enamelling process includes 2-3 coats, inside and out
Black matte enamel interior coating, creates a non-stick surface with natural use & provides the ideal surface for braising, roasting and caramelizing
Every La Cocotte has a consistent smooth enamel coated base to prevent surface scratches
Traditional and authentic French craftsmanship
Suitable for all cooktops including induction
Oven safe
Decorative brass or nickel steel knob is oven safe up to 250°C / 500°F
Dishwasher safe, hand washing recommended
Made in France
All STAUB products are fully guaranteed against defects in material and /or craftsmanship
Ideal for preparing single portions in the oven
For sweet and savoury dishes, e.g. gratins, chocolate fudge, crème brûlée
Preparing and serving in style
Most viewed products See more