PANASONIC-TV-TH-32ES
Discount amount: 5.600.000 VNĐ
Price: 6.000.000 VNĐ
(-7%)
In stock/Available:
available
This item does not show inventory, thanks to you record phone number and email, we will contact again in 24h
overview
Connect
Smart Television / Internet TV
Image and sound technology
Information: Internet TV Panasonic 32 inch TH-32ES500V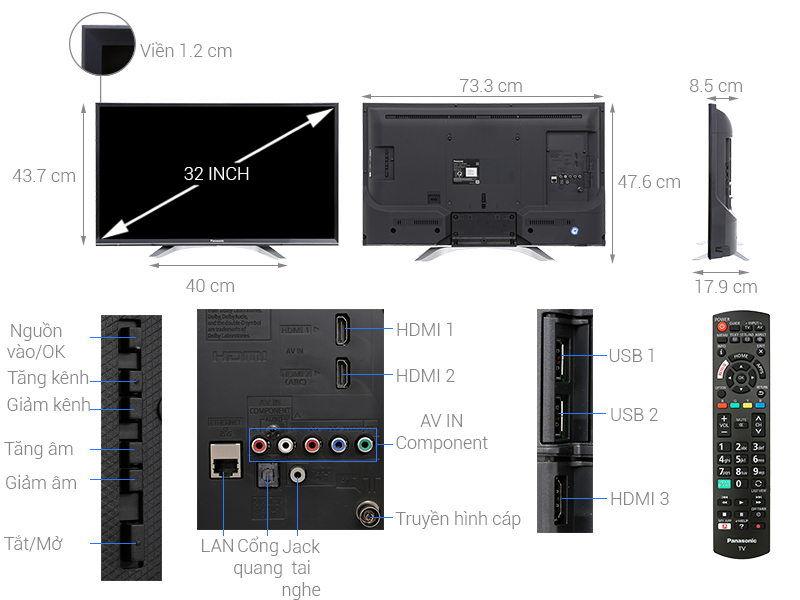 Share
Wholesales price for this item?
Contact
Harmonic design, delicate
Smart The 32-inch Panasonic TH-32ES500V TV with a simple and sophisticated design will fit perfectly into any space in your living room. HD picture quality is enhanced by innovative technology. natural color
Panasonic TVs feature the Hexa Chroma Drive color reproduction technology, which uses six basic colors to mix and create millions to billions of colors. From there, the TV gives a natural, vibrant color.
The ultra-bright IPS LED illuminator gives a realistic, vivid image with a wide viewing angle, saving electricity
The super-bright IPS LED technology on Panasonic HD televisions enhances the brightness of the image by placing high performance LEDs on the back of the superior IPS screen. Beautiful viewing angles deliver stunning images from any angle.
V-Audio virtual surround sound technology for excellent sound quality
The my Home Screen helps personalize your favorite content
Just swipe your finger on the smart device and easily share content on a 32-inch Panasonic TV
Screen the phone on Panasonic TV
Most viewed products See more