Sophisticated full-flat lass designed
The new premium design features the beautiful transparency of glass with a colored backing. 
Strong and scratch-resistant, the tempered glass stays beautiful. So easy to clean, too. Enjoy the lastest in refridgerator design. Multi-door elegance and gorgeous full-flat glass compliment your high-end lifestyle.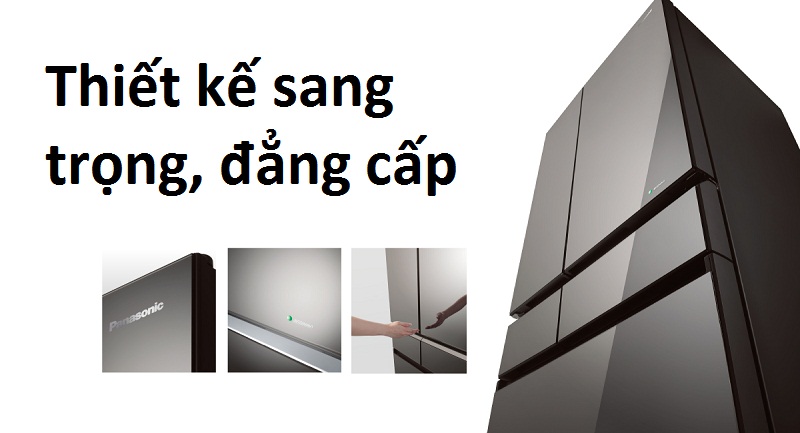 ECONAVI Detects and Cuts Excessive Cooling
The ECONAVI refridgerator monitors the room temperature, when and how often the fridge doors are opened, and the fridge's internal temperature, while a new Storage Sensor detects the amount of food stored. ECONAVI analyzes and responds to this information to maintain ideal cooling and avoid wasting energy
Storage sensor

Light sensor

Room temperature sensor

Door sensor

Internal temperatures sensor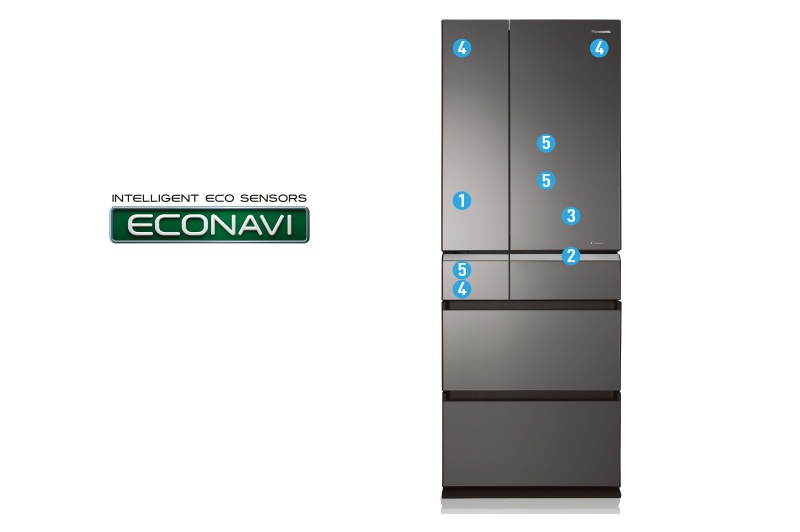 New Storage Eco
Using light and the storage sensor, the refridgerator senses changes in the amount of food stored in the fridge compartment and decides whether an increse in cooling power is needed.
Previously, adding even a small amout of food canceled ECONAVI operation. With new Storage Eco, ECONAVI continues to operate when food additions are small, resulting in even greater energy savings.
Inverter Changes Rotation Rate for Efficient Cooling
Microprocessor: Intelligent Sensing
A microcomputer cleverly detects temperatures inside. Precise information on each temperature change due to door opening/closing action or the amount of food stored is transmitted to the compressor.
Compressor: Intelligent Adjustment
The compressor adjusts rotation speed to suit the situation. 
The result is more efficient, powerful cooling to maintain a stable temperature inside the refridgerator.
Premium Multi-door Storage
The 6-door design allows you to store every type of food under optimal conditions.
+ Fridge compartment (approx. 3~6˚C)
+ Prime fresh freezing approx -3˚C / Chilled select case (approx. -3~-2˚C)
+ Ice compartment (approx. -20~-18˚C)
+ Fresh freezing compartment (approx. -19~-17˚C)
+ Freezer compartment (approx. -20~-18˚C)
+ Vegetable compartment (approx. 3~8˚C)
*The temperature may differ slightly depending on how the refridgerator is used.
Fridge Compartment
This large, bright compartment has multiple door pockets for extra convenience. It's easy to keep your fridge neat and organized.
Approx. -3 ˚C Soft Freezing for Optimal Storage
While the typical refridgerator freeze food to approx -18˚C to -20˚C, Prime Fresh freezing freezes it to approx. -3˚C. Since food is slightly frozen, it never gets hard. Items frozen in this way, even if they are raw, stay at their best, retaining nutrients as well as flavor and texture. There is no need to defrost partially frozen food before preparing it because it remains easy to cut and cook immediately.
*At the time of purchase, the refridgerator is in the Chilled mode. To use Prime Fresh freezing, please switch the setting.
Large-capacity Ice Compartment, 100% Open Drawer
This compartment allows you to store many large-capacity foods.
With flat edges, you can easily fulfill frozen food boxes.
Comfortably store and enjoy food.
1: Large and deep storage container, which allows storage of tall or bulky items such as 2-liter bottles.
2: The ideal small item freezer for small ice cream, small frozen food and many more.
Large-capacity Vegetables Compartment, 100% Open Drawer
Easily store large quantities of vegetables and 2-liter bottles upright. And because the drawer can be pulled out all the way to the rails, it's easy to pick up the contents inside. Buy large amounts of food at the weekend, save time and never forget what you have bought.
Fresh Freezing for Super Fast Freezing
An intense blast of super-cold approx. -32 ˚C air rapidly freeze items. Even putting in hot, freshly cooked food has no effect on neighboring items.
Put in food any time without waiting for it to cool.
Thanks for rapid freezing, the cells in food items aren't damaged so the flavor and nutrients are thoroughly preserved. The difference is obvious when you thaw an item. There's hardly any drip or discoloring.
Ice Compartment with Automatic Ice Maker
Just put water in the supply tank, and ice is automatically made in as little as 80 minutes and stored for you. This is a real convenience on hot days when friends come over. A touch is all it takes to remove the washable ice tray and water is supplied to the tray directly, so it's hygenic. 
Hygiene Active inactivates Airborne Bacteria
Features a silver-coated filter with powerful antibacterial properties and blue LED lights that boost the effects of the filter. These technologies eliminate airborne bacteria to achieve a survival rate of 0,0001%.
This has been proven and certified by a third-party organization.
Automatic Dual Antibacterial Function Switching
During ordinary operation, the refridgerator uses Ag Clean function. When a greater volume of food is being stored, the refridgerator switches to Hygiene Active system, which rapidly eliminates bacteria. Combining these 2 functions help maintain a hygienic refridgerator interior at all times.