Full-flat, Sophisticated Design
The simple, full-flat door have no frames, bumps, or depressions to get in the way of the aesthetically pleasing design. Also stylish electrostatic touch control panel design adds a beautiful accent.
New Style of Refrigerator with Freezer at the Bottom
The freezer, where heavy items tend to accumulate, is located at the bottom, while the often-used fridge is on top.
This new style of refrigerator makes it easier to see items, and easier to put them in and take them out.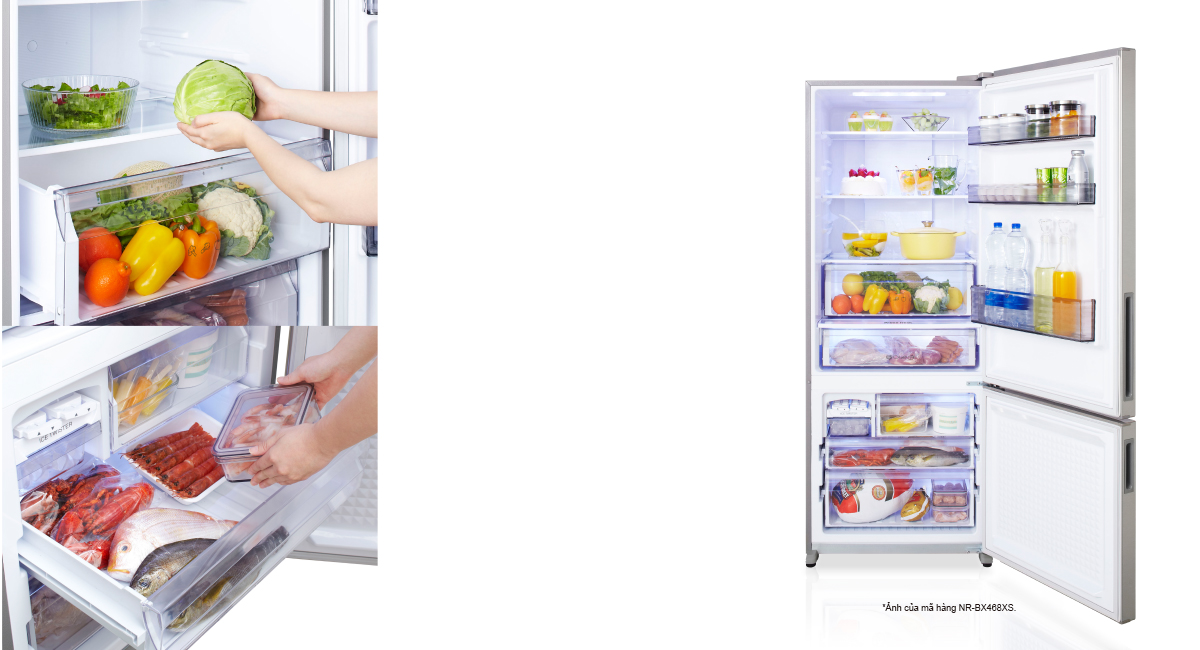 Freeze freezing at -3 ° C for optimum storage efficiency
While the typical refridgerator freeze food to approx -18˚C to -20˚C, Prime Fresh freezing freezes it to approx. -3˚C. Since food is slightly frozen, it never gets hard. Items frozen in this way, even if they are raw, stay at their best, retaining nutrients as well as flavor and texture. There is no need to defrost partially frozen food before preparing it because it remains easy to cut and cook immediately.
*At the time of purchase, the refridgerator is in the Chilled mode. To use Prime Fresh freezing, please switch the setting.
Less smells with 3 separate compartments
Three separate compartments allow you to preserve your own food to prevent smelly odors. The compartments have different heights so you can store items in different sizes.
​
Moisture-retaining Fresh safe Vegetable Case
The vegetable case stores vegetables and fruits in the optimum conditions with high humidity and constant temperature to keep them fresh and juicy for a longer period of time.
Hygienic Storage with Anti-bacterial and Deodorizing Effects
Silver has a powerful anti-bacterial effect, inactivating 99%* of mold and bacteria inside the refrigerator. This effect is semi-permanent so there's no need to replace it. Also, an active enzyme effectively resolves unpleasant fish and vegetable odors.