ORICO- POWER BANK T1-BK
Discount amount: 725.000 VNĐ
Price: 725.000 VNĐ
In stock/Available:
AVALIBLE
This item does not show inventory, thanks to you record phone number and email, we will contact again in 24h
Rechargeable Battery Polymer 10,000mAh Type C
Polymer core. Slim design with aluminum alloy housing.
Input port: 1 MicroB port and 1 Type C port
Output: 2 ports: 1 USB A port (5V2.4A) and 1 Type C port (5V3A).
Automatically adjust the current for each type of phone.
There are LEDs showing battery capacity. There is a MicroB charging cable included with the battery.
Share
Wholesales price for this item?
Contact
PRODUCT INTRODUCTION
With its ultra-stylish design, stylish aluminum casing, 10,000mAh battery life and many useful technologies such as smart charger, spare battery ORICO T1 is truly a reliable companion for every need. work mobile.
ORICO T1 is a spare battery charger for Orico mobile phones that has been launched in Vietnam and now has extremely attractive price - 890,000 dong and warranty renewal 100% within 1 year. .
In addition, with the compact size mentioned above, users can conveniently insert the ORICO T1 into their pockets, bags or handbags to make it easier for every trip, or field trip.
The entire surface of the ORICO T1 is sanded from a monolithic aluminum shell that feels cool, thereby minimizing the risk of accidental handcuffs when handled.
The capacity of the ORICO T1 polymer battery core is 10,000mAh (37Wh), ensuring full power supply for most smartphones or some mid-sized tablets today. For example, the ORICO T1 can be fully charged for two Galaxy S8 Plus (3.500mAh battery capacity) and an iPhone 7 Plus.
Even in many cases, the ORICO T1 can "rescue" a 12-inch version of the latest-generation MacBook running out of battery power using the correct USB Type-C cable.
Unique 2-port rechargeable battery
The ORICO T1 has a very intuitive on / off button, a 4-pin "health" battery power indicator and a terminal block on the top of the body.
The ORICO T1's unique feature is that in addition to the usual micro USB charging port, as seen on most standalone rechargeable batteries available on the market, there is also the appearance of a USB Type-C port that is currently hot. High-end smartphones.
Thus, besides the standard Type-A USB output, the user can utilize the remaining USB Type-C to simultaneously charge two mobile devices simultaneously. Or, more specifically, USB Type-C on the ORICO T1 both acts as a charging port, serving as the power port for charging the connected mobile device.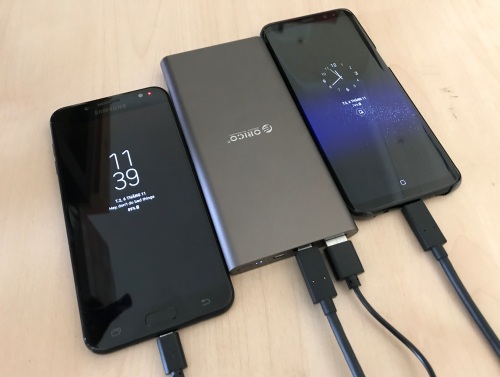 Note: To charge your device with a USB Type-C port, you will need to purchase a separate Type-C USB cable, as the ORICO T1 comes with a standard micro USB cable. is a micro USB.
According to the manufacturer's specifications, ORICO T1 outputs are rated at 5V / 2.4A for both USB Type-A and Type-C.
Promotes safety
The ORICO T1 rechargeable battery pack is a family of mobile workstations that requires a high level of security and performance. For connecting devices such as automatically adjusting the voltage / current corresponding to each connected device thereby minimizing battery bias, automatically disconnect the power supply when detecting short circuit, such as when the battery is overheated, or overcharged, over voltage or current exceeds the allowable limits.

Most viewed products See more