MINIX - MINIX NEO V1 HDMI to VGA adapter
Discount amount: 550.000 VNĐ
Price: 650.000 VNĐ
(-15%)
In stock/Available:
available
This item does not show inventory, thanks to you record phone number and email, we will contact again in 24h
Share
Wholesales price for this item?
Contact
HDMI to VGA Adapter with Audio

The MINIX NEO V1 converts video signals from devices with an HDMI port, such as DVDs, set-top boxes, MINIX NEOseries etc.. for devices with a VGA-interface, such as TVsand projectors etc..
Audio Feature

The audio signal can simultaneously be converted for display over for example external speakers, and is powered via the micro-USBport.
Full High-Definition
The versatile adapter supports full-size high-definition resolution of 720p or 1080p (max. resolution of 1920 x 1080 pixels).
Detachable Design

The design of the adapter makes use of a detachable HDMIcable, which means that dependign on the length you require, you can connect the right HDMI cable (length).
What's in the box
- MINIX V1, HDMI to VGA Adapter with Audio x 1
- HDMI cable (length = 160 mm) x 1
- 3.5mm jack (M) <-> 3.5mm jack (M) Audio cable x 1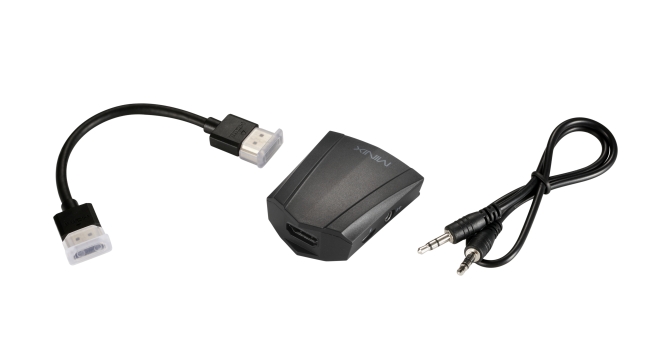 Most viewed products See more