Kit Cat Crystal Clump Cat Litter
Discount amount: 145.000 VNĐ
Price: 145.000 VNĐ
In stock/Available:
Available
This item does not show inventory, thanks to you record phone number and email, we will contact again in 24h
Cotton Candy

Instant clumping silica gel cat litter

Soft and gentle on paws

Super absorbent and maximum odour control

Safe and non-toxic

Anti-bacterial, anti-static and dust free

Innovative colour decoration and scent to the litter box
Share
Wholesales price for this item?
Contact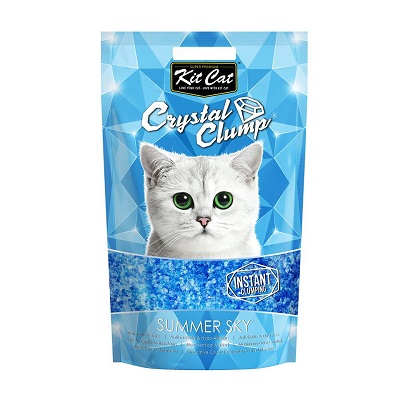 Finally! We've created a crystal cat litter that clumps. For owners who prefer clumping cat litter, Kit Cat CrystalClump is the perfect cat litter for you. The instant clumping crystal stays clean longer, gives off a fresher scent and adds a touch of colour to your cat's litter box.
Kit Cat CrystalClump comes in the form of silica gel and it is super lightweight, dust-free and is incredibly soft and gentle on your cat's paws – it's great for kittens too! Kit Cat CrystalClump also has a high absorption rate and effective odour control. It is extremely low maintenance – simply just remove the clumps and the rest of the litter stays clean – you save on the amount of litter used as well as time to refill and clean your cat's litter box.
Kit Cat CrystalClump is approved by even the pickiest of pet owners and cats.
A 4L bag can last up to a month for one cat.
Composition: Silica Gel with Natural Scent, Natural Plant Gelling Agent

Most viewed products See more