Patin Shoes Flying Eagle S6S - Black
Discount amount: 1.650.000 VNĐ
Price: 1.650.000 VNĐ
In stock/Available:
Availabe
This item does not show inventory, thanks to you record phone number and email, we will contact again in 24h
Brand: Flying Eagle
Made in China
Share
Wholesales price for this item?
Contact
Patin Shoes Flying Eagle S6S was launched by Flying Eagle in early 2017. This is a roller skate for children. With outstanding quality, S6S is one of the most popular products on the market. Be trusted and assured by parents when choosing to buy.
The shoes and shoes body are sturdy but still ensure the necessary flexibility and do not put pressure on the ankle. High quality S6S shoes wheels are like adult skates.
Adjustable size shoes easily fit into the child's feet by pressing the PUSH button on the shoes body and pulling (The sizes on a pair of roller skates are: 28-32, 33-37, 38-42). It means that on a S6S patin shoes you can adjust 5 different sizes.
Flying Eagle S6S Patin shoe specs and specifications:
- Flying Eagle S6S plastic shoes and roller skates are made from strong plastic plastic, very thick plastic shell with high strength and impact. Easily implement extreme dance techniques guaranteed by the outstanding quality of this model of skates.
- Boot in shoes (Liner): Made from synthetic fiber fabric, very thick and smooth, breathable. Give your feet a comfortable feeling when using. Limit shocks from the outside when performing techniques. The boot tip has a 2-way elastic layer for the best fit and safety. Can be removed from shoes for washing, drying or replacement operations.
- The frame: Frame of S6S patin shoe is made of cast aluminum alloy, using thick and very solid CNC technology. Removable or easy to replace.
- Shoes lock: Semi-automatic milimetric and easily adjustable. For maximum foot feeling
- Wheels: 85A hardness, made of solid rubber material with high durability and good elasticity, gear size from 72mm to 80mm
- Bearings: Flying Eagle ABEC 7-speed anti-dust bearings with good price, but the quality is guaranteed to help you replace easily and easily.
- Gear nuts: Steel core screws. + Middle wheel cushion: 8mm molded cushion
- Shock proof base: Not available
Instructions for choosing size: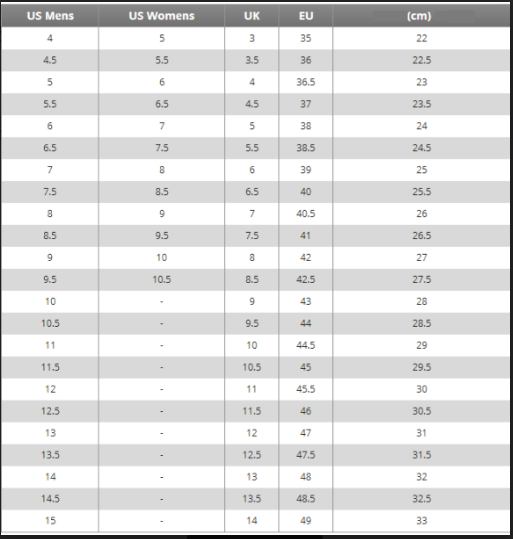 Most viewed products See more