Patin Shoes Flying Eagle BKB B5S - Black Pink
Discount amount: 1.550.000 VNĐ
Price: 1.550.000 VNĐ
In stock/Available:
Available
This item does not show inventory, thanks to you record phone number and email, we will contact again in 24h
- Brand: Flying Eagle
- Brand origin: China
Share
Wholesales price for this item?
Contact
Patin Shoes Flying Eagle BKB B5S launched in September 2017. This is a roller skate model upgraded by the Flying Eagle from the previous BKB B5 model. The B5S version still has two main colors, black and pink. However, the colors have become more sharp, beautiful and much more prominent than the old version.
- Model name: Flying Eagle BKB B5S
- Color: black pink
- Slide category: Slide, Slalom, Urban Skates, High Jump, Speed, Fitness.
- Full set of products including: Skates, Hexagonal tools, shoelaces.
- Detail of Flying Eagle B5S shoes design: Shoes lock: FK lock, zipper, cord lock.
- Shoes collar: Plastic plastic, fixed. Removable.
- Shoes body: Plastic plastic, high strength.
- Shock Eraser: Shock proof base (YES)
- Shoe size: From 34 to 47
- Aluminum frame: Extruded Aluminum: - sizes 34-39: 231mm (4x76mm) - sizes 40-47: 243mm (4x80mm)- sizes: 34-39: Flying Eagle 76mm / 85a- sizes 40-47: Flying Eagle 80mm / 85a
- Bearings: ABEC 7 Standard
- Gear nuts: Steel core screws.
- Middle wheel cushion: 8mm molded cushion
Instructions for choosing size: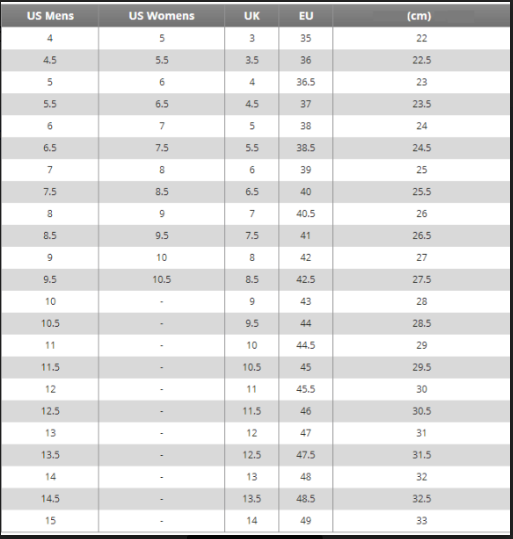 Most viewed products See more