Fissler - Fissler Original Pro Collection Pan Set-5 Piece
Discount amount: 19.800.000 VNĐ
Price: 22.000.000 VNĐ
(-10%)
In stock/Available:
Available
This item does not show inventory, thanks to you record phone number and email, we will contact again in 24h
This set contains a 1.5qt Sauce Pan with Lid, a 10" Saute Pan with lid and an 8" Fry Pan. The Fissler Original Profi Collection is one of the most awarded cookware lines in the world. Designed, engineered and manufactured in Germany, this modern heirloom collection withstands the test of time. This innovative, contemporary, and professional quality cookware collection is constructed of the highest grade 18/10 stainless steel and is the perfect culinary equipment for cooks who value uncompromising quality, attractive design, and superior functionality. Fissler cookware is extremely strong, durable and made in Germany to the highest culinary standards in the world, providing a lifetime of great cooking results and dining experiences.
Share
Wholesales price for this item?
Contact
This Fissler Original Pro Collectionpan set is one of the most popular Fissler series. They are designed by professionals, for professionals. All pans from this series are made of solid 18/10 stainless steel. Even the lid is very solid, which keeps the heat and flavour inside the pan, for an even tastier result.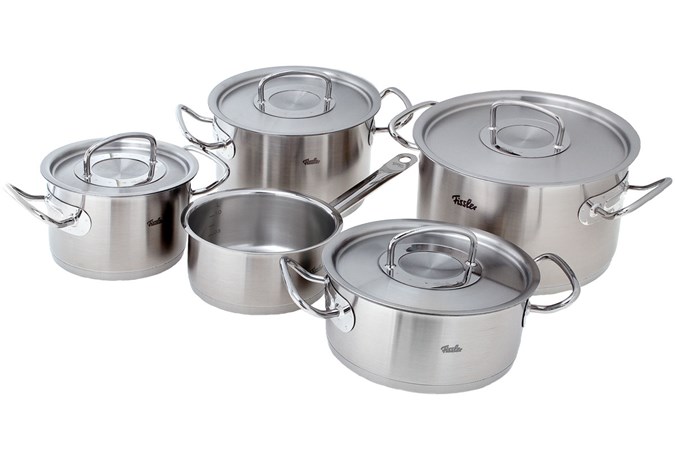 This set includes the following pans:
Stock pot with lid 16 cm, 2,0 l
Stock pot with lid 20 cm, 3, 9 l
Stock pot with lid 24 cm, 6, 3 l
Saucepan without lid 16 cm, 1,4 l
Stew pot with lid 20 cm, 2,6 l
High-quality Cook Star-bottom surface
The Fissler pans all have the unique Fissler CookStar-bottom surface. This material is suitable for use on all the different heat sources. This makes the Fissler Original Pro Collection pans also very suitable for cooking on induction. It works great on induction, but the Cookstar technology also lets you switch between heat sources easily. Without of course the bottom surface bending, something which can happen with lesser-quality pans. When you want to let your dish cook in the oven the pans are also perfect for you!
Smart design
The stainless steel handles are designed so that they do not become hot through heat transfer of the pan.
The lids have a dent in the middle. This makes all the condensation on the inside of the lid automatically fall back inside the pan during cooking. You will never have water flying around when you open the lid.
Also, all the pans from the Fissler Original Pro Collection have a handy measurement scale on the inside of the pan. Pouring from the pans is also incredibly easy because of the special edge.
Fissler pans
The Fissler pans have been famous around the world for more than 150 years. It is the real Solingen top-quality of this quintessential German company, making Fissler pans for generations. Are you looking for the best pans? Fissler is the way to go!
Most viewed products See more