D-Link - Card Wireless PCI (DWA-582)
Discount amount: 795.000 VNĐ
Price: 795.000 VNĐ
In stock/Available:
Available
This item does not show inventory, thanks to you record phone number and email, we will contact again in 24h
Ultra-fast AC1200 Wi-Fi speeds
Dual Band Wireless AC Technology (5GHz and 2.4GHz) for less interference and more bandwidth
Upgrade your desktop PC and connect to your network without messy Ethernet cables
Two 4.5dbi external dipole antennas for optimal coverage and performance
Backward compatible to your existing Wi-Fi network
Access a secure wireless network using advanced WPA or WPA encryption
Easy to install and use with the Setup Wizard and Wi-Fi Protected Setup (WPS)
PCI Express x1, x4, x8, or x16 support
Low Profile Bracket included
Share
Wholesales price for this item?
Contact
Wireless AC Technology for Fast Speeds
The D-Link  AC1200 Wi-Fi PCI Express Adapter with Wireless 802.11ac technology maximizes the speed and range of your Wi-Fi signal to significantly outperform Wireless N devices. The DWA-582 fits into any standard PCI Express slots – x1, x4, x8, or x16.
Get Connected, Stay Connected
The AC1200 Wi-Fi PCI Express Adapter is powered by Wireless 802.11ac technology and uses two 4.5dBi external antennas to provide superior wireless reception in your home or office. This adapter is designed for use in larger homes and offices, or for users running multiple bandwidth-intensive applications. This adapter enables you to simultaneously make or receive Internet phone calls (VoIP), surf the Web, transfer files, and stream High-Definition (HD) media when connected to a Wireless AC Router or Modem Router. The DWA-582 supports WPA™ and WPA2™ encryption that allow you to connect securely to a wireless network.
The Benefits of Dual Band
The dual band AC technology in the DWA-582 supports selectable 2.4GHz or 5GHz wireless signals. This allows you to check e-mail and browse the Internet using the 2.4GHz band or stream HD movies and other media on the 5GHz band. The 5GHz wireless band is the best technology available for wirelessly streaming HD videos across your network. It achieves this by operating in a clear wireless band to help avoid interference that may slow down and limit the range of current wireless technologies like 802.11n. The DWA-582 is also backward compatible to 802.11 a/g/n, which means it can be used with existing wireless networks.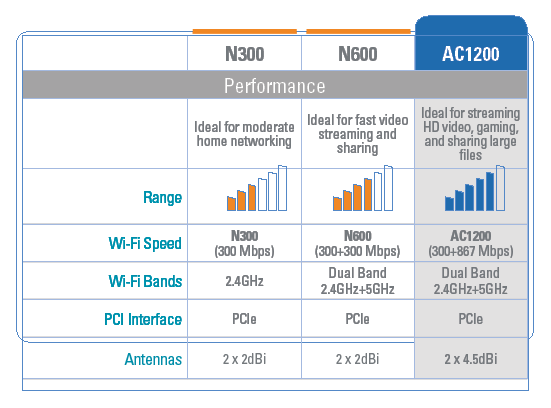 Most viewed products See more