Dental Fresh® Water Additive
Discount amount: 330.000 VNĐ
Price: 330.000 VNĐ
In stock/Available:
Available
This item does not show inventory, thanks to you record phone number and email, we will contact again in 24h
Dental Fresh® Water Additive
Water-additive to fight bad dog and cat breath and promote overall oral health. Anti-microbial formulation destroys bad-breath causing germs and bacteria; reduces the building blocks for plaque formation. Specially developed for superior effectiveness and safe for long-term use. Does not contain harmful ingredients.
Share
Wholesales price for this item?
Contact
Helps improve oral health; eliminates plaque and tartar formation.

A great addition to your pet's at-home oral health program.

With regular use, helps strengthen the enamel of teeth and whitens teeth over time.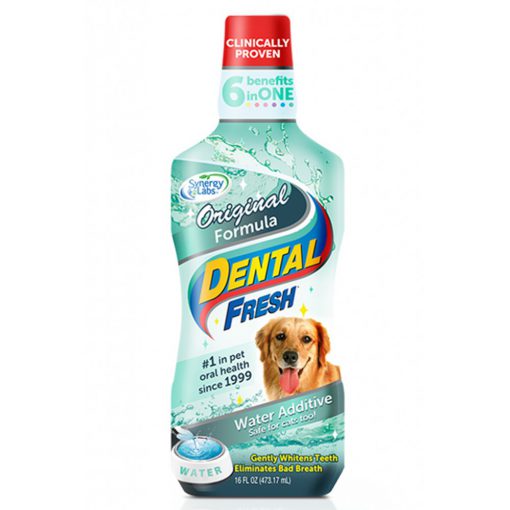 SPECIFICATIONS
Ingredients: purified water, stabilized chlorine dioxide, sodium bicarbonate, potassium sorbate, sodium benzoate, tetrasodium EDTA, methyl paraben.

Does not contain alcohol, sugar, surfactants or detergents.

No mint flavors; will not cause staining.

Tasteless; free of artificial flavorings.

Can be safely used long-term.

Daily use is recommended. Add 1 teaspoon (capful) of Dental Fresh to 8 oz drinking water.

Daily usage results in fresher smelling breath and healthier looking teeth and gums. Safe and effective for dogs and cats.
Most viewed products See more