Pet Ag Calcium Phosphorus Tablets, 50-Count
Discount amount: 239.000 VNĐ
Price: 239.000 VNĐ
In stock/Available:
Available
This item does not show inventory, thanks to you record phone number and email, we will contact again in 24h
Calcium supplement tablets for cats and dogs
Products of PetAg - USA
Share
Wholesales price for this item?
Contact
We spend everything for animals, from cats to dogs or whatever wild animals. Pet-Ag is always working hard to provide quality products to enhance and enrich the lives of all animals in the world. That is Pet-Ag's mission
Calcium Phosphorus tablets with a balanced ratio of Calcium and Phosphorus, supplemented with vitamin D3 to help the body absorb and bio-metabolize to meet the development needs of cats and dogs, especially during development and pregnancy. and breastfeeding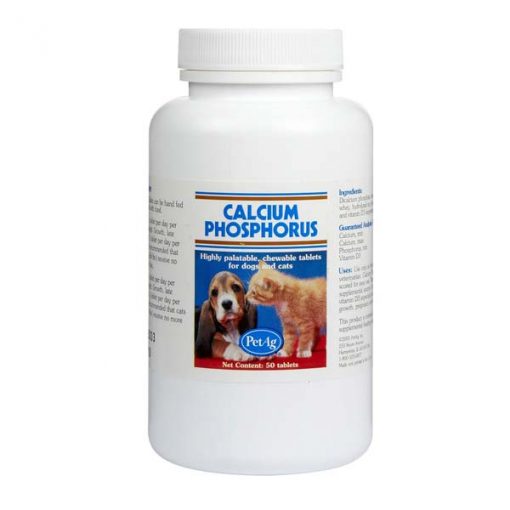 User manual :
Calcium phosphorus tablets provide an additional source of calcium, phosphorus and vitamin D3, especially during rapid growth, pregnancy and lactation. The product is easy to use, and has a delicious taste that can be fed directly or crushed to mix with the proportion of cat and dog food as follows:
Dog: 1/2 tablet / day / 10kg body weight.
Older dogs, pregnant and lactating mother dogs: 1 capsule / day / 10kg body weight.
Dogs> 30kg do not feed more than 3 tablets / day.
Cats: 1/4 tablet / day / 2kg body weight.
Cats are growing, pregnant and nursing mother cats: 1/2 tablet / day / 2kg body weight.
Cats> 3kg do not feed more than 1 tablet / day.
Ingredient :
Dicalcium phosphate, dry brewer's yeast, dried milk, hydrolyzed soy protein, magnesium stearate, and vitamin D3 supplements
Guaranteed nutrition criteria: (per pill)
Calcium, min: 300 mg
Calcium, max: 360 mg
Phosphorus, min: 250 mg
Vitamin D3: 245 IU
Most viewed products See more