BOSCH - Angle Grinder - (GWS 17-150CI)
Discount amount: 3.295.000 VNĐ
Price: 3.526.000 VNĐ
(-7%)
In stock/Available:
Avalible
This item does not show inventory, thanks to you record phone number and email, we will contact again in 24h
Specifications
Product Code: GWS 17-150

Manufactured by: Bosch

From China

Rated input power: 1700W

No-load speed: 9300rpm

Power output: 1010W

 Disc diameter: 150mm

Rubber backing pad, diameter: 125mm

Weight: 2.4kg
Share
Wholesales price for this item?
Contact
Small Angle Grinder 1700W Bosch GWS 17-150 CI
The Bosch GWS 17-150 angle grinder has a rated power of 1700W, and the rotational speed of the idle grinder is 11,500 rpm to provide enough power for you to grind hard metal objects such as iron. , steel, stone ... The diameter of the wheel disc is quite wide grinding area ensures relatively large, suitable for many types of work. Not only is the grinding effect, the Bosch grinder can be used to engrave or cut parts on materials or items. Depending on the needs and craftsmanship of the mechanic, the machine will promote all its special effects, giving you the products you want.
Intelligent design, handy
Bosch angle grinder with handle, also rubberized rubber body, plastic front handle, thus creating flexibility when used. The grip is connected to the handle shaft by a shaft lock, so you can easily change the discs when needed. The front of the flat machine, makes it convenient to work in tight spaces. As you operate, you can rotate the dock at a 90-degree angle, creating the flexibility of the machine when used in different terrain and grinding locations. The machine is designed for air intake and exhaust front and rear of the machine, creating optimal circulation for the hot air flowing out during the operation of the machine. Thus, the machine will work in the temperature not too high, to maintain the durability as well as longevity of the machine.
Safe when using
Bosch angle grinders are designed with a protective steel ring on the grinding wheel to make it easy for the operator to use, even when the grinding disc is broken. The body is covered with rubber insulation, insulation should not worry about heat and power inside the user influence. The microprocessor inside the body ensures constant speed of rotation with protection functions such as overload protection, quiet start up and startup current limitation for power safety. The heat exchanger is designed to stay away from the handle, protecting the user from heat generated by the machine.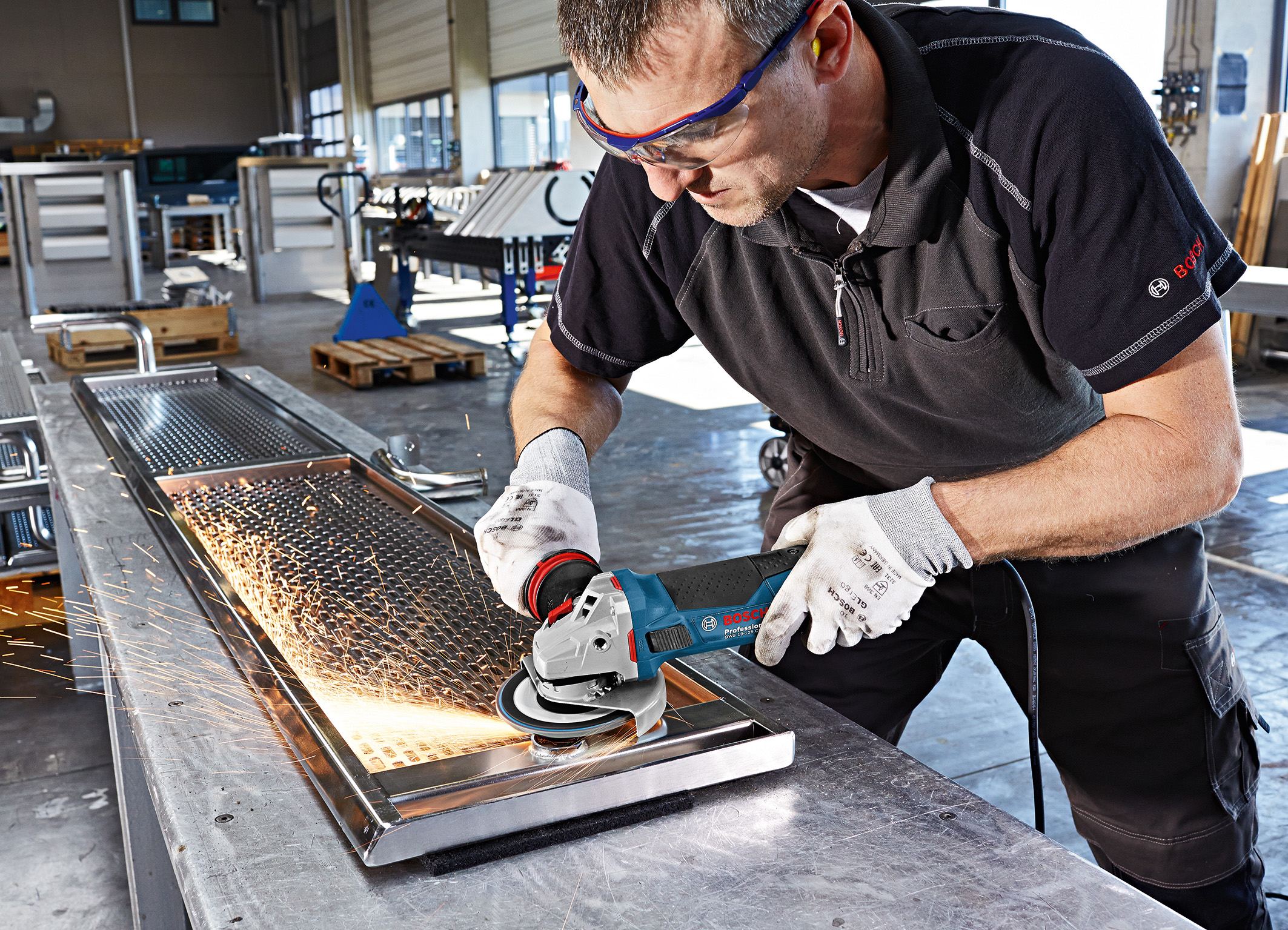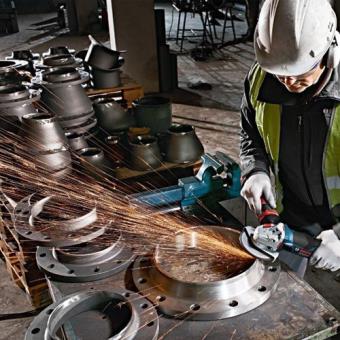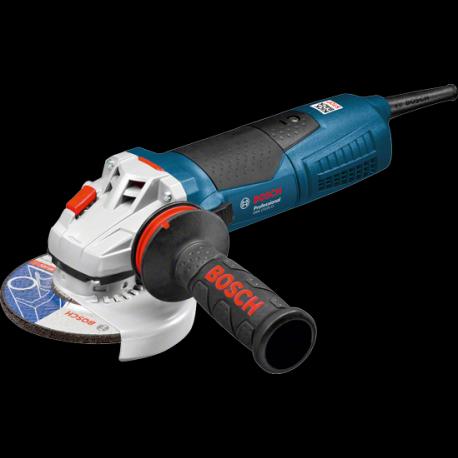 Small Angle Grinder 1700W Bosch GWS 17-150 CI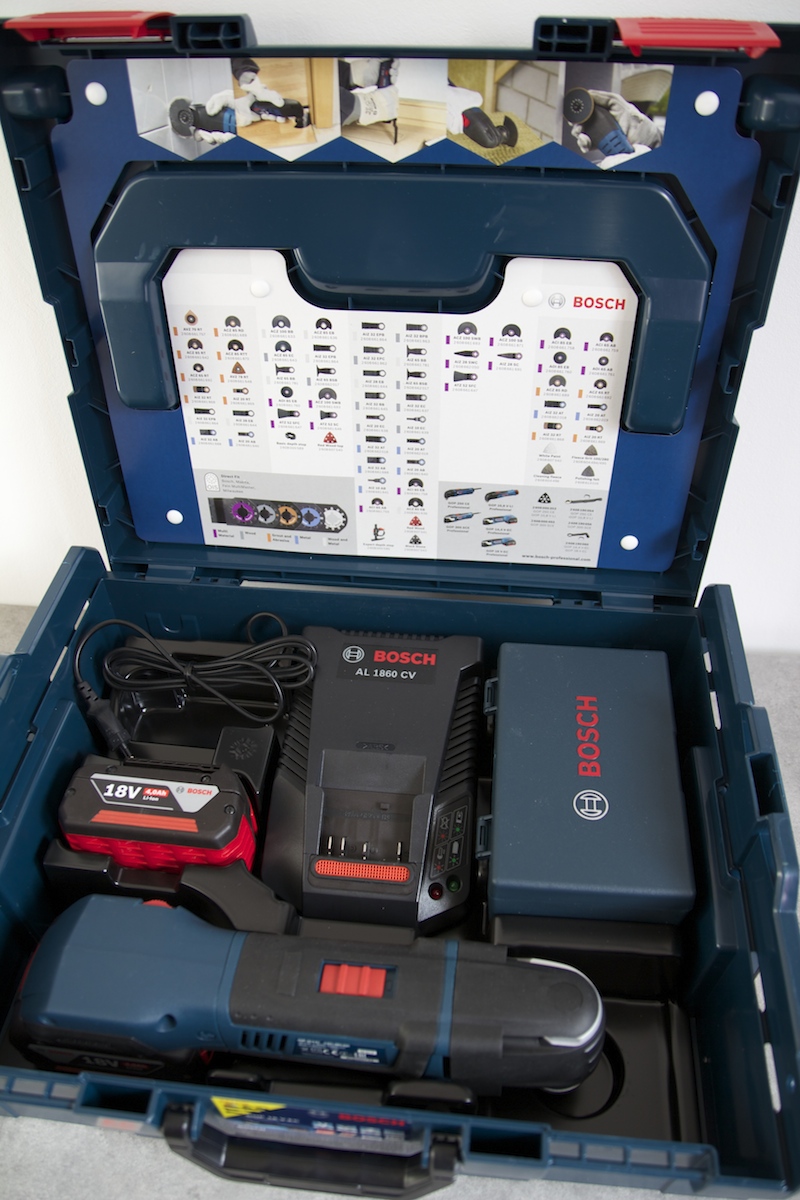 Small Angle Grinder 1700W Bosch GWS 17-150 CI

Most viewed products See more