Bosch - Drilling Machine - (GSH 16-30)
Discount amount: 17.170.000 VNĐ
Price: 17.500.000 VNĐ
(-2%)
In stock/Available:
Avalible
This item does not show inventory, thanks to you record phone number and email, we will contact again in 24h
SPECIFICATION
Rated power input: 1.750 W
Max. impact energy: 45 J
Weight: 17.8 kg
Length: 760 mm
Width: 255 mm
Toolholder: 28 mm internal hexagon
Vibration level (chiselling): 13,0 m/s²
Share
Wholesales price for this item?
Contact
The Bosch GSH 16-30 Professional chisel is the product of the famous German tooling and parts supplier with machined chisel nose, which is hardened to give a durable and long lasting performance. durable.
- Body made of hard material with good heat resistance, optimum firmness, no deformation when subjected to strong impact, so users can rest assured for a long time.
- With a capacity of up to 1750W, this is a perforated concrete machine used for penetrating and breaking large concrete blocks. In particular, the product can break up 13 tonnes of material a day.
- The Bosch GSH 16-30 Professional chisel is equipped with vibration control, which reduces vibration, avoids fatigue during work, ensures user safety and prolongs the operation. of the machine.
Specifications
- Thrust: 45J
- Damping speed: 1300 l / p
- Head: Hexagon in 30mm
Manufacturer information
The Bosch Group has been present in Vietnam since 1994 with the mission of supplying Bosch angle grinders and including the Bosch 1750W GSH 16-30 drilling machine on the market. In April 2008, the group established Robert Bosch Vietnam Ltd. in Ho Chi Minh City. In July 2014, all business units were merged into Bosch Vietnam Co., Ltd., headquartered in accordance with business license in Dong Nai province. In addition, Bosch also has its head office in Ho Chi Minh City, Hanoi office and showroom in Da Nang city. In Dong Nai, the company has a CVT production plant for automobiles. Currently, Bosch is involved in seven areas: Automobile Parts & Accessories, Transmission & Control Engineering, Packaging Technology, Hand Tools (including Bosch Drill 1750W GSH 16-30), Security Systems, Thermal Technology and Gasoline Systems. The company also has a software research and development center in Ho Chi Minh City with more than 700 engineers. In addition, Bosch has established a automotive research and development center in Ho Chi Minh City in July 2014.
Drilling machine Bosch  1750W GSH 16-30
Today, Bosch is one of the largest industrial conglomerates in Germany. The group has a number of subsidiaries and joint ventures in 50 countries, with more than 193 manufacturing plants to produce Bosch 1750W GSH 16-30 drilling machine, 37 global business cooperation projects and more than 232,000 Employees around the world.
On April 14, 2011, Robert Bosch Vietnam Limited inaugurated a factory with an investment capital of 30 million euros, specializing in the production of variable transmission line used in automatic transmission for cars in Long Thanh Industrial Zone, Dong Nai. Package products including Bosch concrete hammer drill. According to Bosch, in the first year, the plant will produce 1.6 million transmission lines and is expected to increase to 2.3 million by 2015, when total investment reaches 55 million euros. Our products will ship 100% to Japan and China. Soon, on May 11, 2011, Bosch Vietnam continues to open its RBVH software and technology center located in E Town HCMC.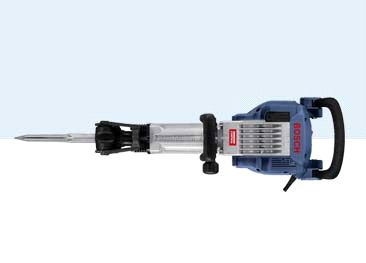 Most viewed products See more