Supor pressure cooker two handle YG18 made of durable aluminum alloy material:

Supor pressure cooker with 2 handle YG18 3L capacity is suitable for families of 2 - 5 people. Material 3003 aluminum alloy thickness up to 3mm to help the heat and heat quickly to cook for fast cooked food, fuel economy.
Supor pressure cooker with two handle YG18 design lid fit fits snug tight.
The casing is oxidized softly with international advanced technology, forming three layers of high durability, unchanged when exposed to high temperatures for a long time, at the same time friendly to the environment and does not affect user health.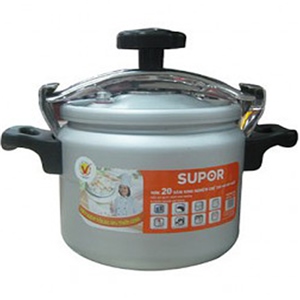 Supor pressure cooker YG18 design two handles on both sides of cooking convenience.
Rubber seals ensure that water does not escape, saving up to 70% of cooking time, saving fuel. The slider is easy to use, allowing you to open or close the lid with one operation.
Supor YG18 pressure washer with aluminum alloy cover
The Supor YG18 pressure cooker is designed with two handles to help secure the bucket. Bottom of pot design concave, increasing the hardness of the bottom of the pot. Handles are supported with plastic insulation to help you avoid heat problems, hand burns. The product won the title of "high quality Vietnamese goods", creating trust for housewives.
The Supor YG18 pressure cooker has a luxury case.
Supor YG18 double-pressure pressure cookers are designed with pressure-relieving safety valves, so you no longer have to worry about the potential risk of pressure cookers.