Cooking is a joy when using the round, cherry-red cocotte from the popular La Cocotte series. It looks good in any kitchen and dining area and will catch the eyes of your guests. Cocottes originate from France and are traditionally used for slow cooking. They are ideal not only for French specialties such as coq au vin, but also for other nation is recipes.

This Staub cocotte is around 14 cm high, 20 cm in diametre and has a 2.2 l capacity. It is made of cast iron, the ideal material for slow cooking. Cast iron retains heat for long periods and then gradually releases it during the cooking process. It is also very good at keeping food cold so is ideal for preparing desserts.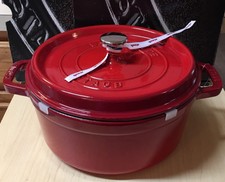 Cast-iron cookware is suitable for any type of oven and cooker including induction hobs. It is robust, resistant and easy to care for. These features are enhanced in Staub cocottes through their enamelled interiors. Enamel also brings out the aroma of food to produce delicious meals.
Ideal for searing and slow cooking of meat, fish or vegetables
Juicy and tender cooking result thanks to the lid is special drip structure
The matt black inner enamelling is ideal for particularly crisp searing and is especially durable
Suitable for all types of hobs, incl. induction, can also be used in the oven/grill
Height without lid:
9.5 cm
Induction Compatibility:
yes