Connoisseurs of French cuisine are sure to love a Staub cocotte, as is anyone who loves preparing juicy, tender roasts and baked dishes. This casserole dish that originates from France was formerly used to cook chickens, but today is just as popular with all kinds of modern dishes. 

The cocotte is black and oval in shape, with a width of 31 cm and a height of just under 17 cm: perfect for preparing tasty roasts. It holds 5.5 litres, big enough to treat the entire family to a large, tender cut of meat on a Sunday. The cast iron construction of the cocotte means that it can be taken directly from oven to table, keeping your food warm throughout the meal.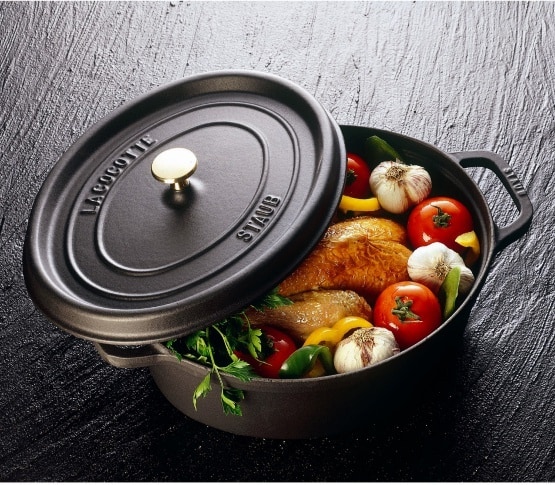 Searing meat to keep the juices in or gentle stewing – both work equally well with this casserole dish: no need to swap dishes, meaning one less pan to clean. The cocotte is designed for use on all types of cooker and can also be used in the oven to bake or stew food. The constant, even conduction of heat from the base and sides cooks food wonderfully, with the result that food cooked in a Staub cocotte ends up extra-flavoursome and tasty.
Ideal for searing and slow cooking of roasts and whole chickens
Juicy and tender cooking result thanks to the lid is special drip structure
The matt black inner enamelling is ideal for particularly crisp searing and is especially durable
Suitable for all types of hobs, incl. induction, can also be used in the oven/grill
Height without lid:
11.8 cm
Induction Compatibility:
yes