1. Technical details of the bike set SP 3000 PRO
- Product technology: USA.
- Origin: Taiwan.
- The SP 3000 PRO bikes are designed to be sturdy, powerful and sophisticated for use in professional gyms.
- Size of installation: 105 x 51 cm (length x width) and height adjustment from 102 to 117 cm.
- Weight training bike: 48 kg.
- Weight of flywheel: 20 kg.
Maximum work load: 200 kg.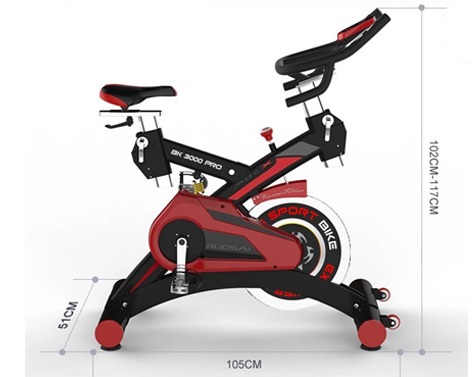 * Features and Benefits of Buying a SP 3000 PRO Exercise Bike at Home
- The exercise bike is equipped with a multi-function display that displays training parameters including speed, duration, calorie consumption, heart rate and distance traveled. This will help you keep track of your training to get the most out of it.
- Product design with saddle and adjustable height handle easy to fit all users.
- The SP 3000 PRO bikes use magnetic vibration systems through the belt, so the pedal is very quiet, no noise during training and high durability.
- Tipping on the car helps to balance the impact while training and help the product is best protected.