Edifier is a branded product line from the US.
Edifier MU500 features more than other Micro hat karaoke lines because of the ability to use modern wireless technology to satisfy the hobby of home karaoke without the use of complex jacks like other conventional microphones. .
BASIC FEATURES
Microphone karaoke bluetooth for Edifier MU500 has wide frequency range, from 20Hz to 17.5mHz, for circular, clear and unbroken sound at high notes, deep bass clarity.
Equipped with virtual DPS sound effects, with automatic echoes, echoes suitable for basic karaoke needs.
- The bluetooth transceiver is compatible with many devices such as smartphone, tablet, laptop .... Equipped with audio processor of Edifier, allowing to mix music and vocals to the headphone port, eliminating the delay between the music. and words.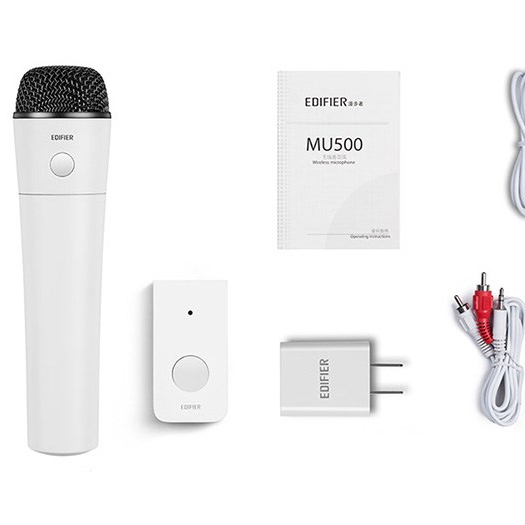 - The microphone is connected to a separate UHF frequency transceiver, with a special frequency range from 702MHz to 784MHz.
- Micro-rechargeable lithium-ion rechargeable battery for high quality, for longer lasting use of popular karaoke bluetooth microphones.
The Edifier MU500 includes 1 microphone and 1 receiver. The transmitter connects to your wireless device with a microphone and plugs it into other hearing devices such as speakers, headphones, and more. .
The mic can be placed anywhere in the house to control instead of being fixed as before. Also, you can use a smart phone, a tablet to connect and control the mic no matter where you are in the room. Also you can use as mic karaoke on cars
Micro karaoke bluetooth Edifier MU500 is a line of wireless, wireless audio, professional, with stylish, youthful. Portable mobile microphone with many smart gadgets.
The quality of the MU500 is very good, mic design and beautiful mixer.
The size of the Mic is smaller than that of other conventional mice on the market.
A mic's reception facility will receive music from your phone, PC via Bluetooth, and receive voice calls from the mic via radio.
It will then re-enter and output via the 3.5ly port.
This receiver needs continuous power through the MicroUSB port while the mic has an internal battery and charger via the MicroUSB port.