1. Technical information on the exercise bike YK-B5818R
- Product code: YK-B5818R.
- Importer: Dynamic force.
- Weight bike exercise: 47.1 kgs.
- Weight: 52.5 kgs.
- Size of the machine: 170 x 66 x 108 cm.
- Dimensions: 166.5 x 25.5 x 72 cm.
- Weight flywheel: 6 kgs.
- The YK-B5818R exercise bike is rugged, durable and easy to move.
In addition to biking functions, the exercise machine also has handrails on the side of the seat to help measure heart rate while exercising.
- YK-B5818R is a specially designed exercise bike with a back seat that is quite thick and comfortable, not only the armrest next to the seat, but also the heart rate monitor, a machine. Exercise can be used for both adults and children to practice.
- The YK-B5818R training bike is the perfect rehabilitation for rehabilitation.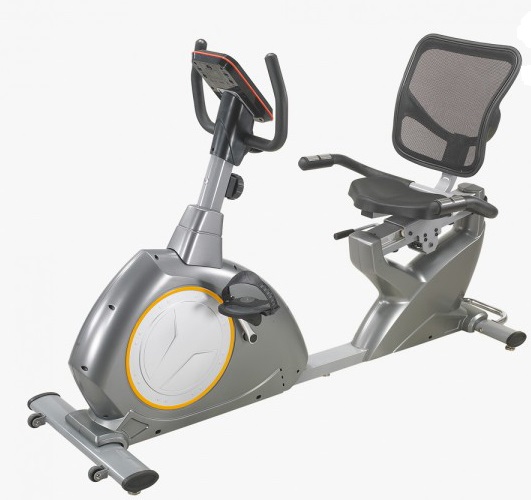 * Features and Benefits of Buying a YK-B5818R Exercise Bike.
Products with backrest seats help the practitioner can sit in a straight back, hands clinging to the two handrails or can sit with the man lean forward and cling to the handle.
- With this YK-B5818R Exercise Bike, you can also adjust the height of the seat to suit every exercise.
- The bike is designed simple, compact, can fold and move easily, suitable for all family space.
- Adjustable force with 8 different levels, you easily increase the reduction of cycling, only with gentle wring.
- The pedal of the exercise machine is made of high quality plastic material, smoothly, easily adjust to fit with the foot of the exercise.
- The GYK-B5818R exercise bike is designed for all subjects, including the elderly, for exercise.
- Using a home exercise bike will help strengthen the muscles, develop muscles, especially the muscles of the legs and thighs tighter, tighter.
It also helps improve heart rate, improve cardiovascular health, reduce risk of heart disease such as heart attack, blood pressure, stroke ...
- Extreme workouts also help to lose weight effectively, resulting in firm and compact waistline. Cycling within 30 minutes helps a person to consume 240 calories equivalent to calories consumed outdoors.
- The dashboard has a dashboard displaying parameters, precision heart rate handrails, and adjustable force levels at various levels.
- Home exercise machine with adjustable function of sitting from low to very high backward flexibility and support of the steel frame is very strong, high strength makes the exercise is always stable whether How high is your bike riding?
- Special exercise bikes have the smartest and most user-friendly smartphone control panel.
- The safest and most well-designed exercise bike is for middle-aged, older, and well-trained middle class athletes.
- Daily cycling with the YK-B5818R exercise bike helps you work out and solve the problem of weight loss.