A drinking water additive to help reduce plaque and tartar buildup on the teeth of cats and dogs. This clinically proven formula gently whitens teeth and eliminates bad breath. Mild, yet powerful formula to help reduce surface stains, revealing a naturally white smile. Advanced, self-regulating formula activates only when bacteria is present; eliminates germs in the mouth and prevents slime from forming at bottom of the water dish. Helps protect against advancement of moderate to severe periodontal disease when used as a regular oral care regimen.
Species: Dogs and cats
Use daily for maximum effectiveness. Add 1 teaspoon of Dental Fresh for every 8 oz water in water bowl, or follow your veterinarian's directions. Safe for dogs and cats.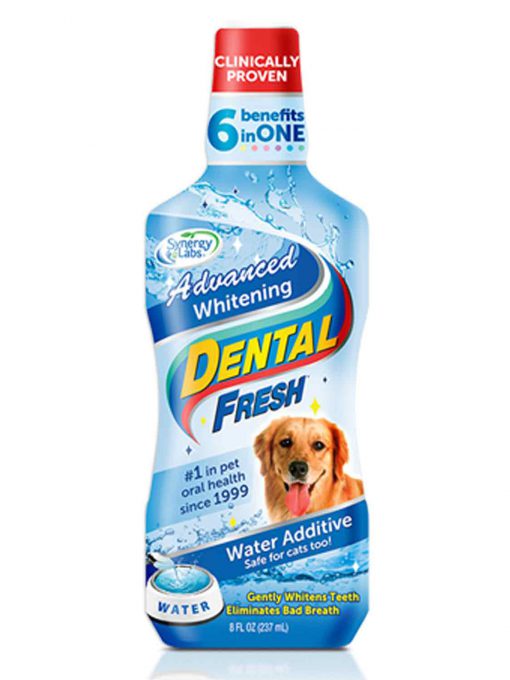 FEATURES / BENEFITS
Whitens teeth and helps prevent and reduce plaque formation.

Treats and prevents gingivitis, while instantly freshening breath.

Restores enamel and helps prevent cavities.

When used as part of an at home dental care routine, it helps reduce the frequency of professional cleanings.
SPECIFICATIONS
Always provide fresh, clean water daily.

Ingredients: purified water, stabilized chlorine dioxide, sodium bicarbonate, potassium sorbate, sodium benzoate, tetrasodium EDTA, methyl pa

raben.